Overview
High efficiency sand washing machine is a necessary sand washing product auxiliary equipment for sand making machine, with wheel structure. It can remove stone powder and impurity away from the mixed sands produced by the sand making machine, so it can improve the sand quality. Our sand washer, adopting advanced technology and taking the stone sand industry's practical condition into consideration, is applied to washing, grading and dehydrating in construction site, sandstone factory,hydroelectric station dam, concrete factory, glass plant, and oil well refilling. This series washer with features of high ratio, reasonable structure, high capacity, lower power consumption and small quantity sand lost during washing. Especially transmission part isolates from water and sand. So it reduces the break-down compared with the traditional sand washer. This product is the best sand washer at home now.
Features:
1. Sand washer is of simple structure.The bearing device of impeller drive is separated from water and materials with water, to avoid in a large degree that the bearings are damaged by being soaked with water, sand or some polluted things.
2. When it is used for cleaning sand in quarries, it has many advantages compared with the traditional spiral one.
3. There is little loss from mediumsized and fine sand and stone powder.The grade and the fineness of the sand for construction after being washed can be up to the national standards.Such as "Sand construction" and "cobble and broken stones for construction".
4. There are no other wearing parts except the screen mesh.
5. It features of long service life and few times for maintenance.
Working principle:
The electrical motor runs slowly with the impellor after decelerated by the belt, decelerator and gears wheel. The sand and stone flow into washing launder from feeding launder, rolls with the impellor, and grinds each other. The impurity covering the sand is washing away.At the same time, add more water, the strong water flow will take away waste and some low-weight wastes from washing launder.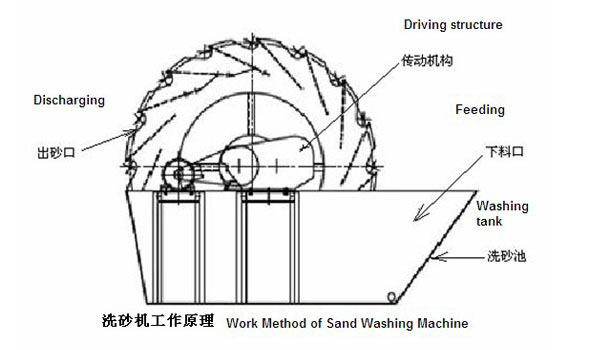 Specifications
| | | | | |
| --- | --- | --- | --- | --- |
| Specification | XS2200 | XS2600 | XS2900 | XS3500 |
| Wheel bucket diameter(mm) | 2200 | 2600 | 2900 | 3500 |
| Rotation Speed(r/min) | 41641 | 41641 | 0.8-1.5 | 0.8-1.2 |
| Processing capacity(t/h) | 15-30 | 20-50 | 50-100 | 120-200 |
| Motor Power(kw) | 4 | 5.5 | 7.5 | 11 |
| Total Weight(kg) | 4300 | 5600 | 8100 | 9900 |
| Dimensions(L*W*H)(mm) | 3150*1910*2280 | 3520*2390*2690 | 3820*2640*3200 | 4420*2930*3800 |
Client Site
Inquiry
Please enter your demand such as Raw material type, Capacity, Feeding material size, Final product size. To become our quality clients will have access to a 2%-10% discount of contract!