Overview
APPLICATION
.Centrifugal pumps with single impeller are able to offer high flow rates,provide smooth,non-pulsating delivery,and regulate the flow rate over a wide range without damaging the pump.
.For the correct functioning of the pump,use clean water,or non-aggressive liquids charged with small solid impurities.
.To be used in flow irrigation system in gardening,agriculture and industrial fittings.
OPERATING CONDITIONS
.Liquid temperature up to 60°C
.Ambient temperature up to 40°C
.Total suction lift up to 9m
.Continuous duty
CONSTRUCT
PUMP
Pump Body:Cast Iron
Impeller:Brass/ Stainless steel/ Techno-polymer (P.P.O)
Mechanical Seal:Carbon /Ceramic/ Stainless Steel
MOTOR
Single Phase
Heavy Duty Continuous Work
Motor Housing:Aluminum
Shaft:Carbon Steel/Stainless Steel
Insulation:Class B/Class F
Protection:IP44/IP54
Cooling:External Ventilation
ROTATION DIRECTION OF KYSB WATER PUMP: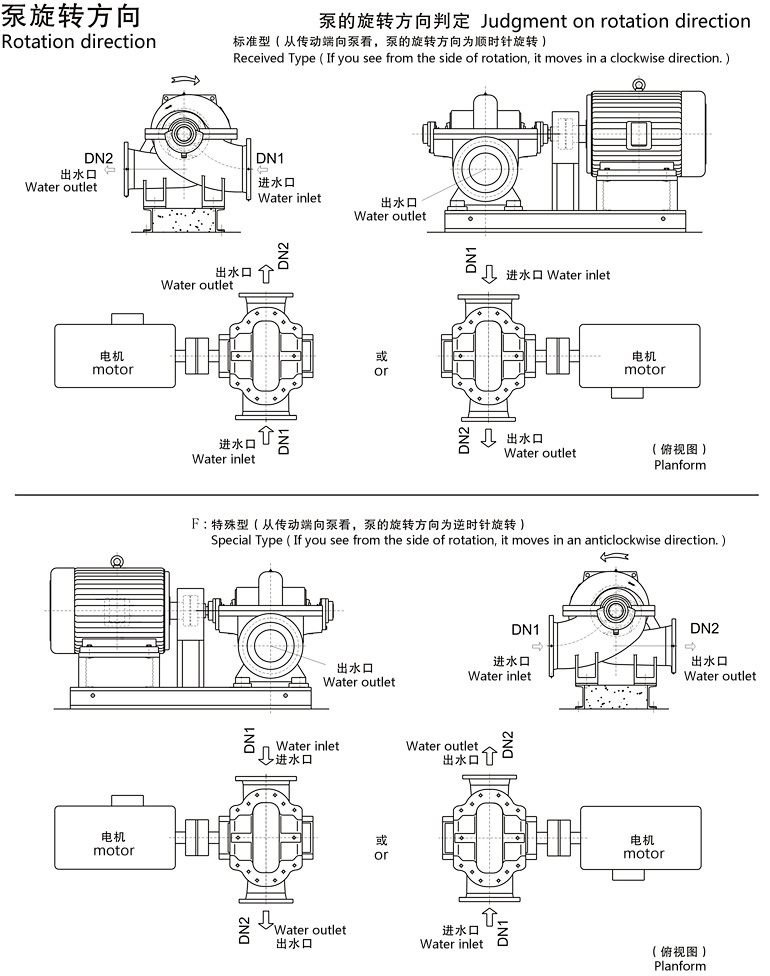 STRUCTURE OF KYSB CENTRIFUGAL WATER PUMP: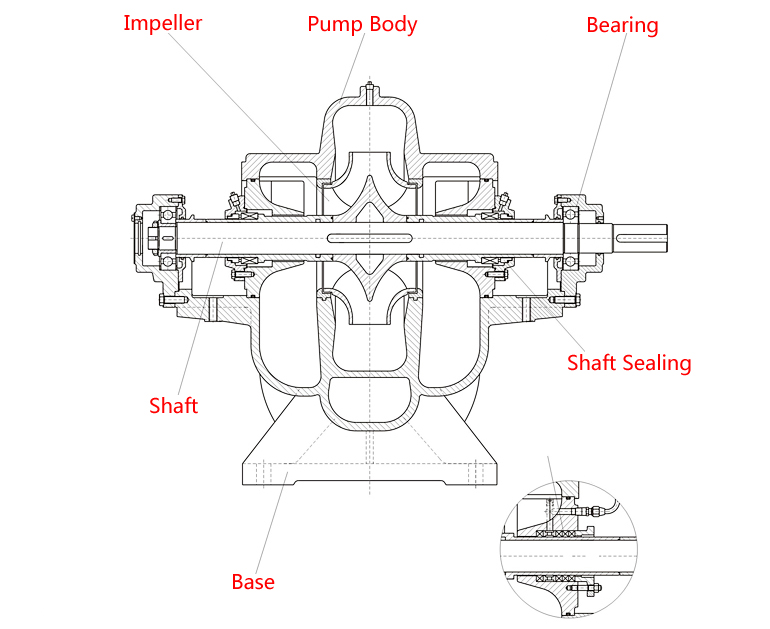 Impeller

Equipped with double suction impeller, which release the axial force to lowest level.

Most advantaged CDA hydraulic model.

The pump body can be adjusted to transformed impeller so that it can improve its efficiency in different situations.

Pump body

Equipped with double volute case, it releases radial force. Force on shaft decrease and lead to longer service life.

Convenient installation. Pump cover with automatic correction function.

Relative pipeline position of motor and pump body is changeable so as to adjust to different occasions.

There is on vortex beside inlet, stable operation and low wastage.

Bearing

Convenient maintenance, enlarged bearing, long service life.

Bearing sleeve fixed up in bottom of bearing, which contributes to stationary position and its reliability, easy dismounting.

Shaft

Enlarged one, fine rigidity stable operation, novel structure.

There is no damage on rotor even though short time of reversal and it is easily changed back into right direction.

It is a complete sealed shaft that could not get in touch with liquid and has nothing to do with thread corrosion.

Spare parts finely meet the pump specifications.

Base

Welded steel one for you chose which has the feature of impact resistance and fine malleability. It is portable and durable one.

Shaft Sealing

Branded mechanical sealing with no leakage, axle sleeve is stainless steel, which avoids corrosion.

Wadding used meets requirements for environmental protection.

Injection type of wadding can ensure current on-line service without stop the machine so that it can save loss of machine halt. Frictional power consumption decreases.
ASSEMBLY:
Specifications
| | |
| --- | --- |
| Capacity | 6.3-400m3/h |
| Heads | 5-125m |
| Temperature | ≤80°C |
| DIA of inlet | 50-200m |
| Speed | 1450/2900r/min |
Client Site
Inquiry
Please enter your demand such as Raw material type, Capacity, Feeding material size, Final product size. To become our quality clients will have access to a 2%-10% discount of contract!